Read some great stories from previous school years.....
Sports Day Fun in the Sun
We had two days of glorious sunshine for our annual KS1 and KS2 sports days this year. A huge thank you to everyone who turned out to support the children. And a special thank you to Mr Kelly and his glamorous assistants for making the events such a success!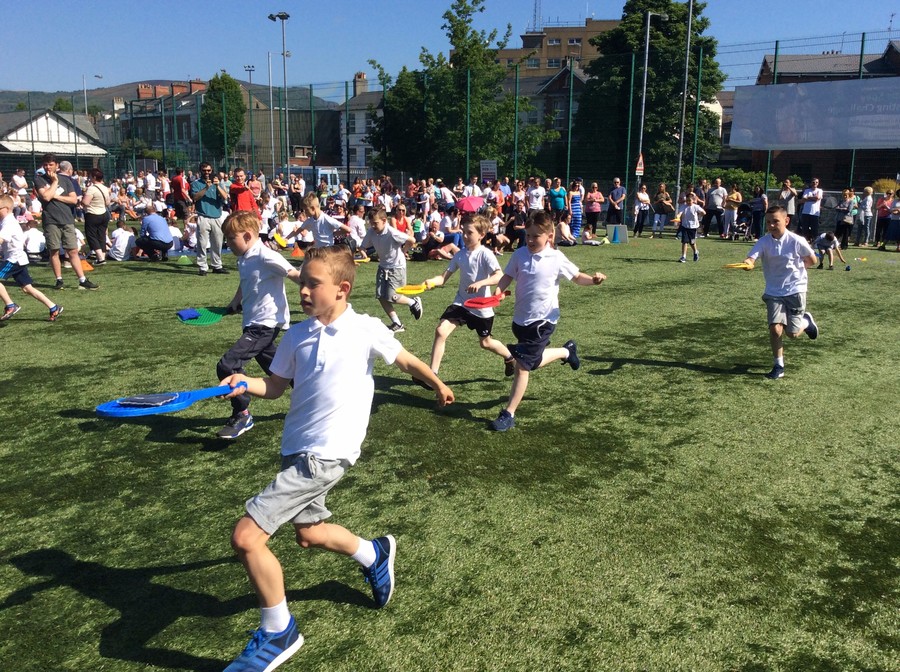 P7 Pushkin Project
Mr McDowell's Class had a wonderful time exploring creative writing with the Pushkin Project. The organisers were so impressed with the children's contributions that they were given a special award. Their celebration day at Baron's Court was a real treat!
Trocaire Fundraising
A huge THANK YOU to all of the children, staff and parents who baked, bought, donated and raffled this week during our Lenten fundraising for Trocaire. Your generosity was as great as ever!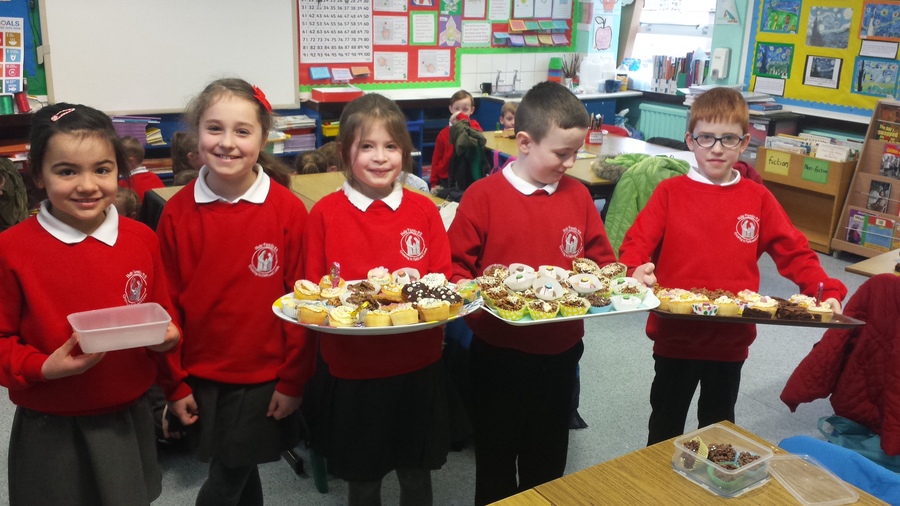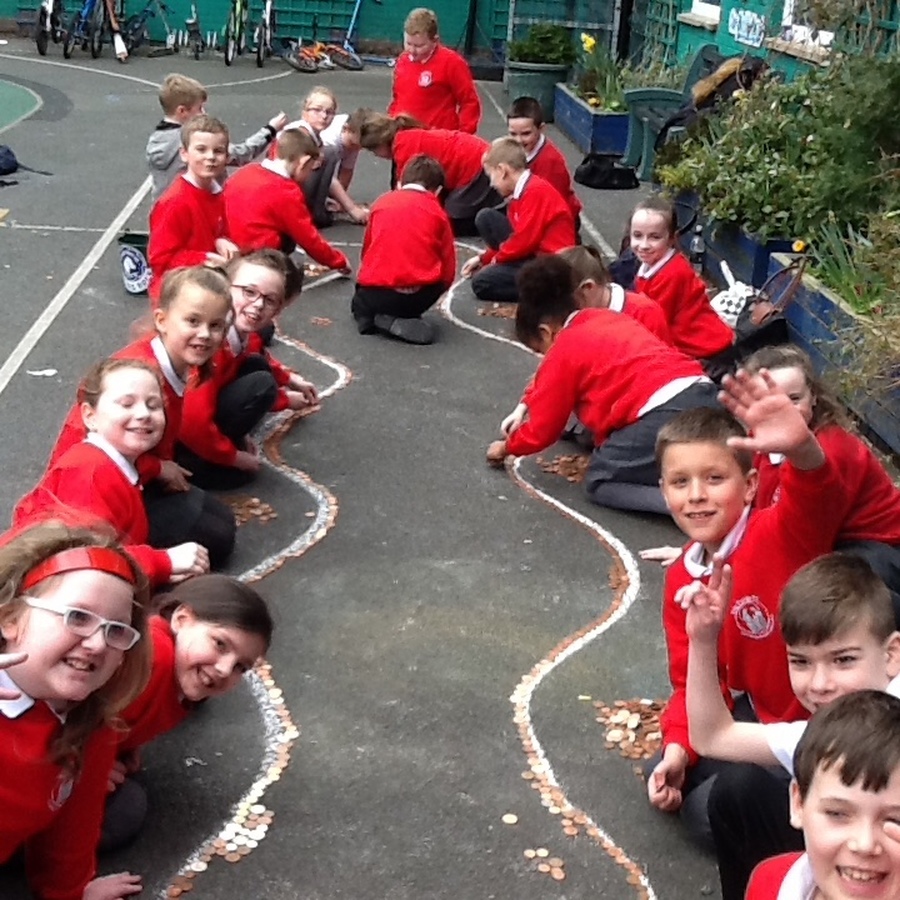 St Patrick's Day Celebrations
Recorder Group Success
Mrs Mallon and Miss McAlister took their recorder groups once again to the Ballyclare Festival where they competed in a number of categories. For many of these children it was their first competition and they performed beautifully, coming home with their arms full of certificates, medals and trophies!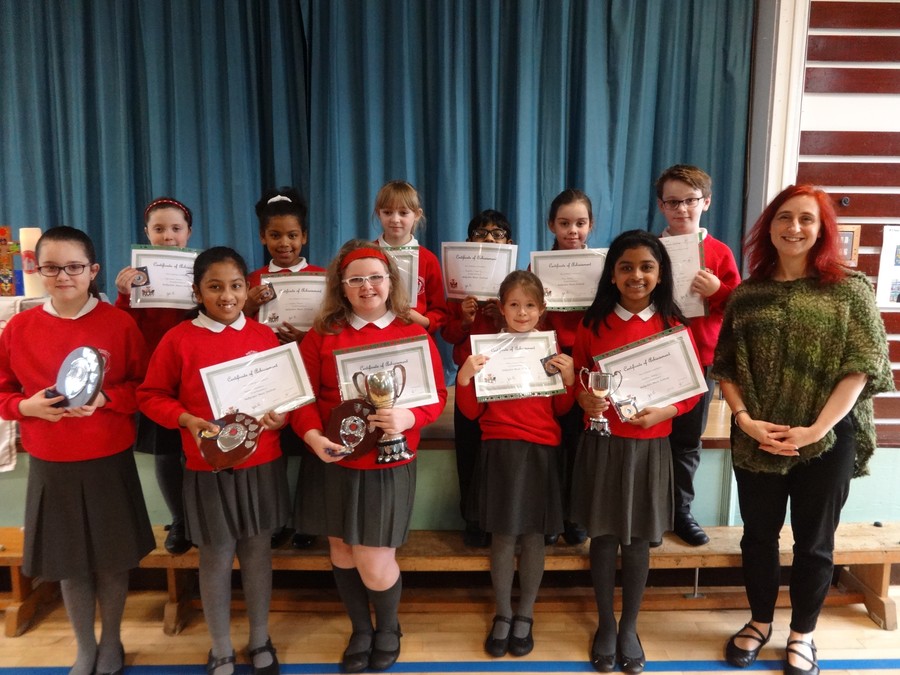 Congratulations to Our Confirmandi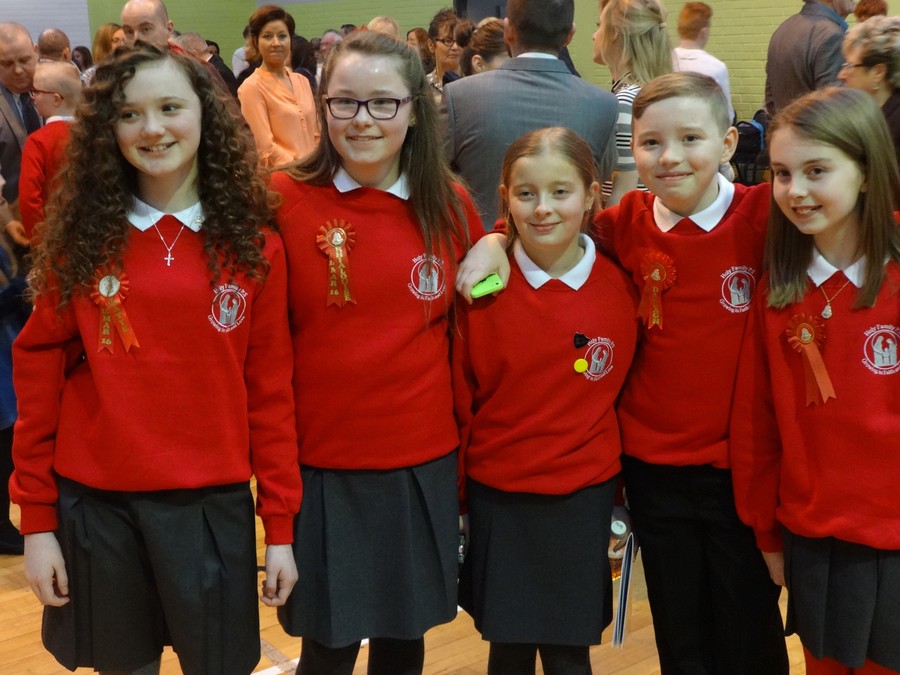 Primary 6 Poetry Stars
Huge congratulations to Emma and Grace from P6 who performed their own poems at the launch of the 'Write Sparks' poetry anthology at the Ulster Hall. They have had their poems published in the anthology along with Katie, Mary-Patricia and Aimee from their class. Grace was also awarded a special commendation for her writing.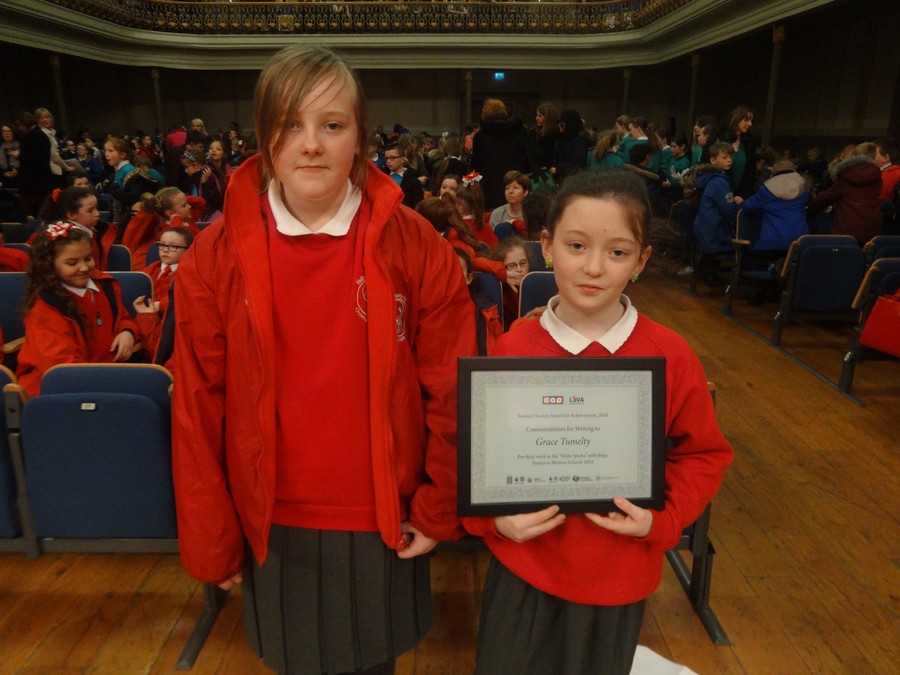 Free Family Cycle Fun
Do you fancy a free fun family cycle? There are a number of guided cycles happening all over Belfast throughout the month of March. Why not get your cycling gear on and head out together to enjoy these events!
Check out the Sustrans website for more information:
http://www.sustrans.org.uk/events/belfast-family-fun-led-rides
Festival of Active Travel
We are having a Festival of Active Travel 29th Feb - 4th Mar. Why not participate in some of the events below.....you could win a prize for taking part!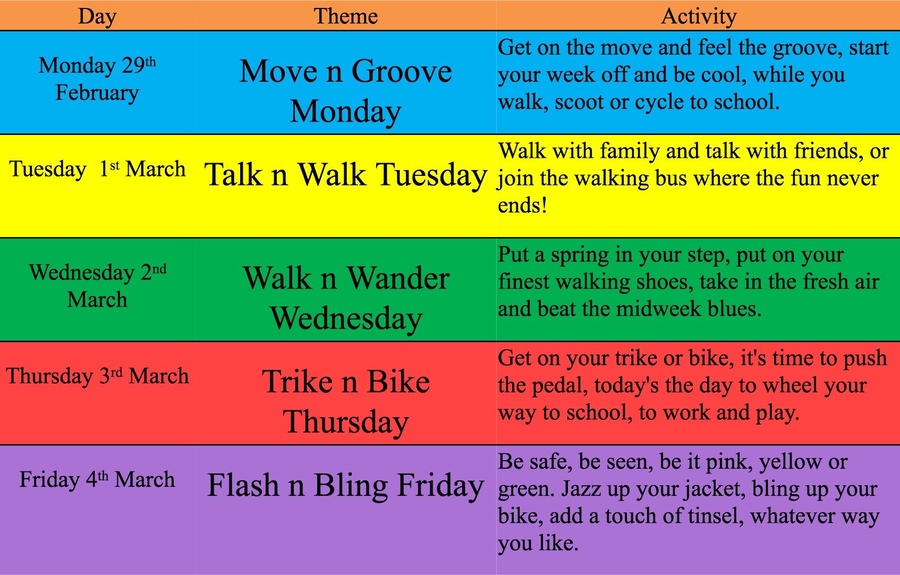 Radio Ulster Choir of the Year
Miss Wilson and Miss Dowds are so proud of their wonderful choir, who reached the semi-final stage of the BBC Radio Ulster School Choir of the Year competition! They performed beautifully and behaved wonderfully, as always. Well done boys and girls!
Scientific Sue's Litter Lab
Primary 5 and 6 had a fun and informative visit from Belfast City Council this week. We were all shocked to learn that keeping our city clean costs a whopping £12.5 million each year! Scientific Sue showed us the science of litter and explained why it is important to pick up our rubbish and dispose of it correctly.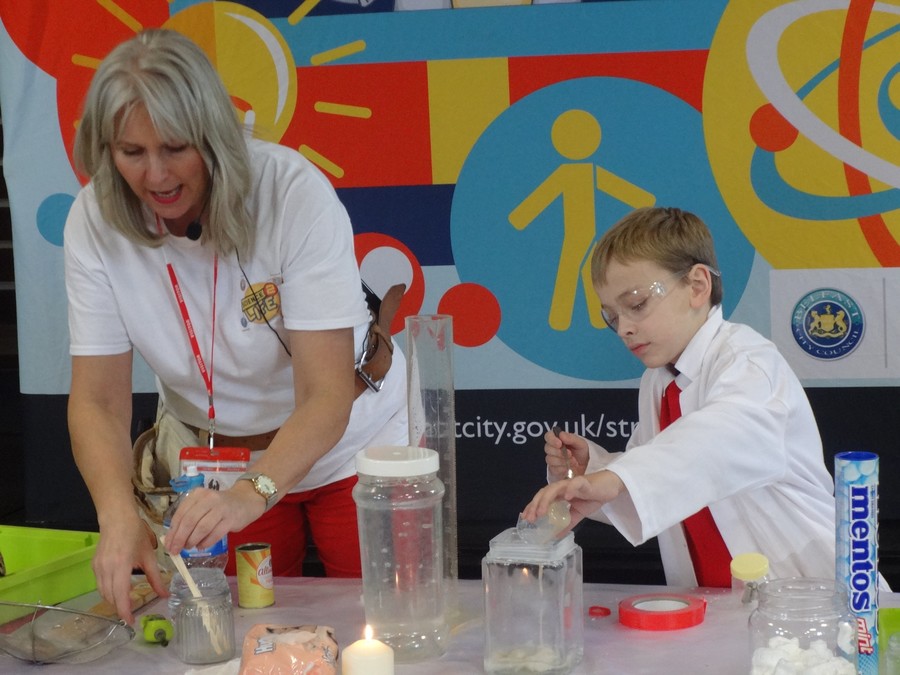 A Most Captivating Evening For Our Choir
What a wonderful evening we had at the FISCA Choir Competition in the City Hall on Thursday. Our children and their friends from Currie Primary performed beautifully and picked up the top award of the night for 'Most Captivating Performance'. Parents and teachers alike were bursting with pride! Well done to all involved!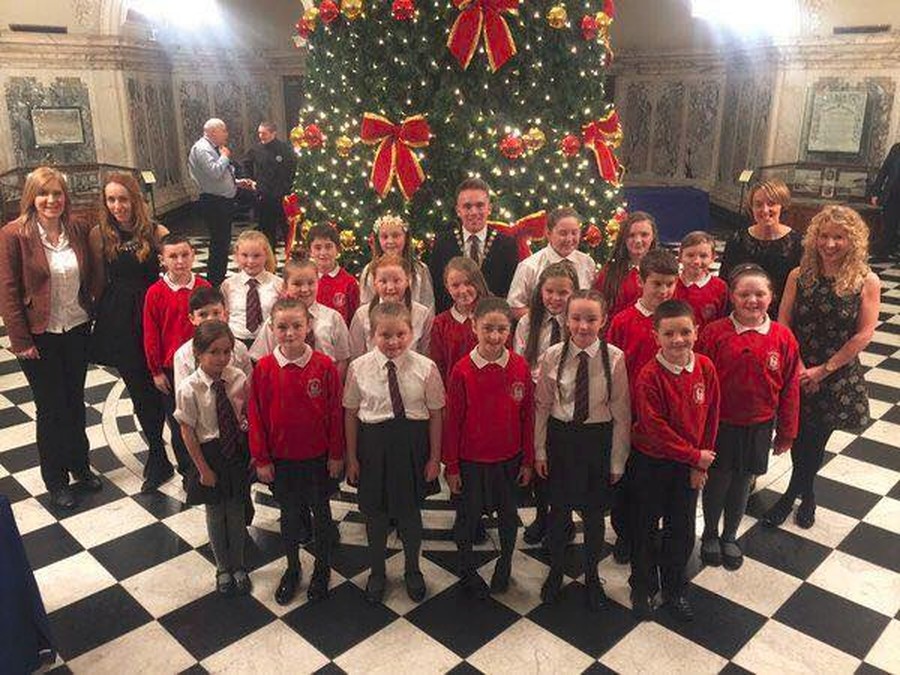 Sky Sports Superstars
Well done to our Primary 5 children who represented our school so well in behaviour and attitude at the Sky Sports fun day at the Shankill Leisure Centre. Our children were such good sports, they were presented with the trophy for the best participating school. They also each received a beautiful medal. Thank you for being such wonderful ambassadors for Holy Family!
Forest and International School Awards
Holy Family is now an official Forest School! We earned this prestigious title through our shared education project with our friends in Currie Primary, having lots of fun along the way! Mrs Hickey and Miss Ryan are also now our resident experts as they have become certified Forest Schools Leaders. Well done!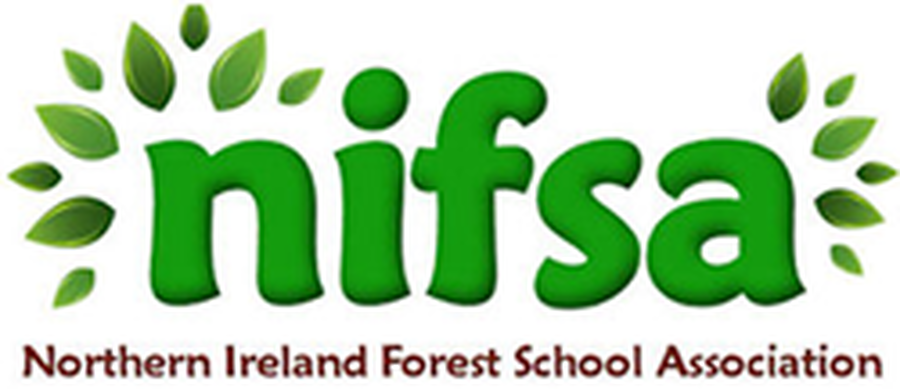 Congratulations also go to Miss Brankin and the School Management team who went off to Derry to pick up our International School Award. They did a great job, proving us worthy of re-accreditation for the next 3 years.
Holy Family Hero!
Holy Family were in for a treat this week when we were visited by a very special past pupil! Ryan Burnett, a professional boxer from North Belfast, visited our assembly fresh from winning WBO Bantam weight European title. He inspired our children by telling them that if they work hard they can achieve anything! He started boxing when he was a Primary 5 in Holy Family and has worked so hard to get where he is today. Well done Ryan!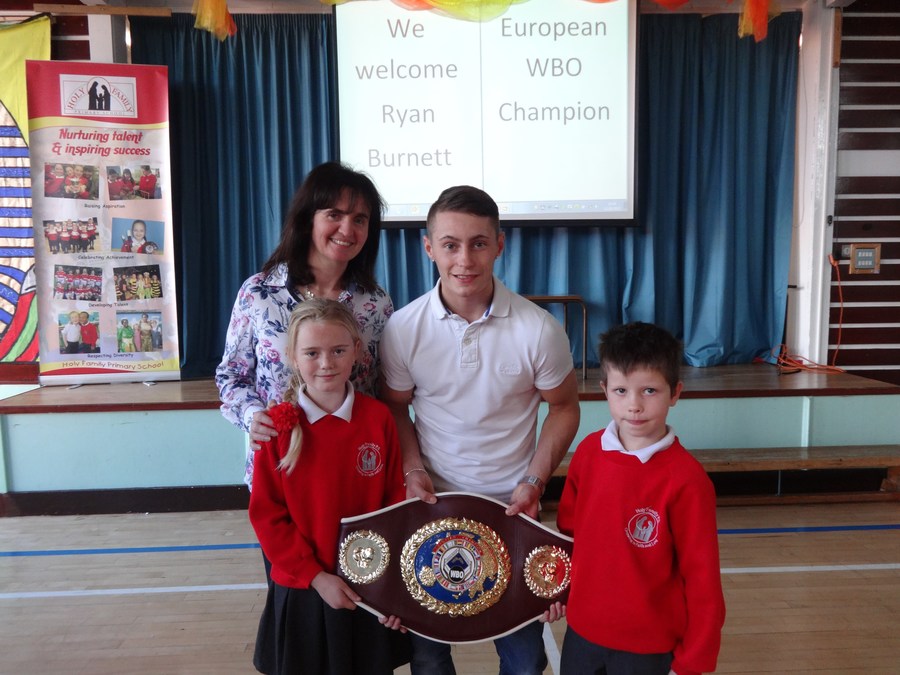 Walking Bus Undeterred by Wet Weather
We had a great turn out once again for our Walking Bus. Thank you to all of the children, parents and younger brothers and sisters who braved the rain and joined us along the route!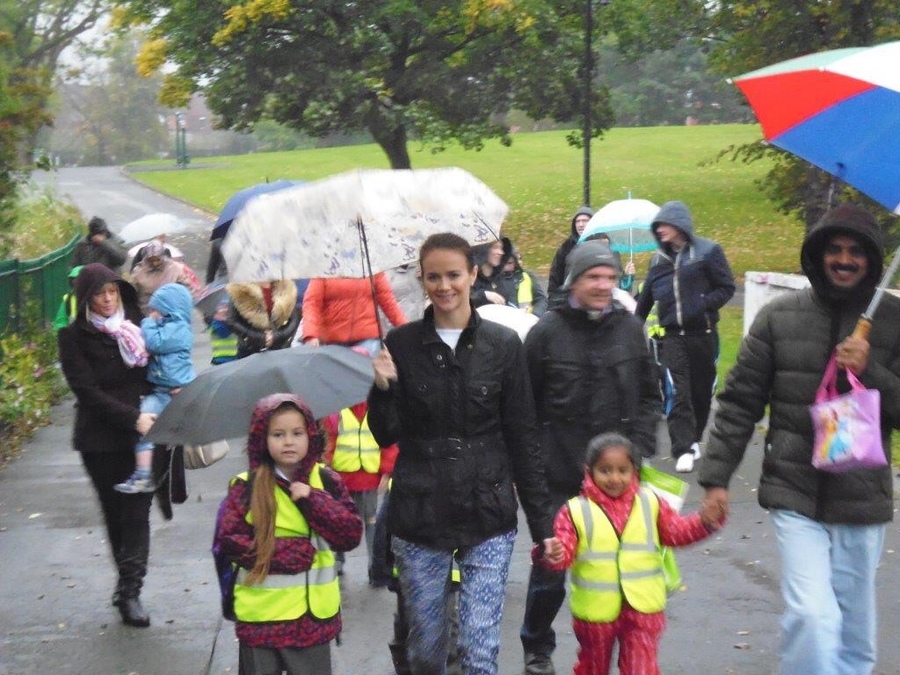 Road Safety!
With the dark nights closing in and the clocks going back in a matter of weeks, the issue of road safety becomes a concern for all of us. All the children in Holy Family received a visibility vest today to help keep them visible and safe on the street. We would ask the children to wear these to and from school each day.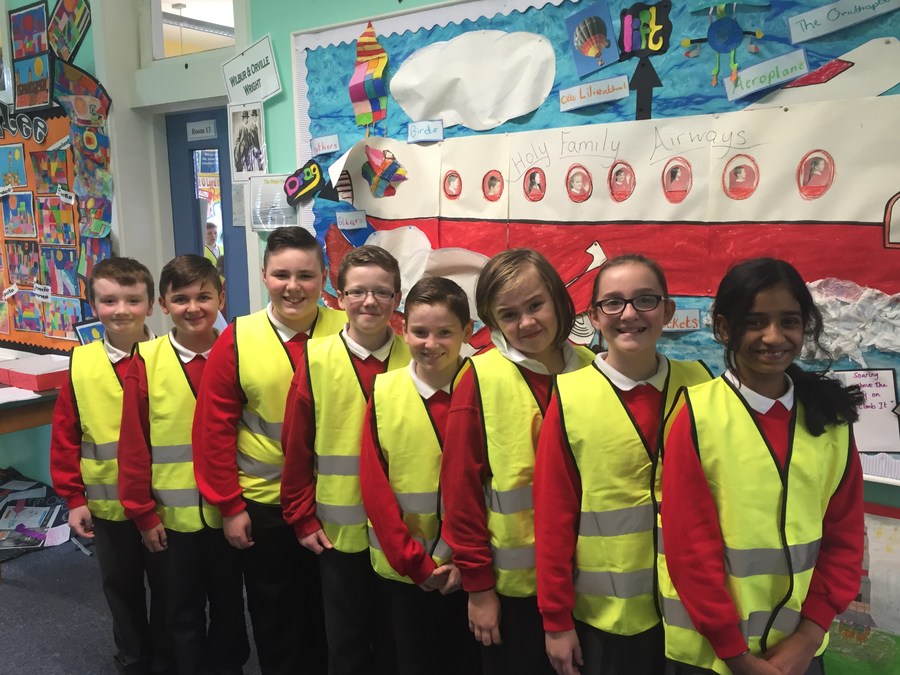 Walking Bus!
Make the journey to school more fun by joining us on our walking bus on Monday 5th October. We will be leaving from the Antrim Road Tesco at 8.30 am walking down Jubilee Avenue and through Alexandra Park. You can join the bus anywhere along the route. Miss Magee and Beverly Gaston, our Sustrans Schools Officer will be leading the bus. We would love to make this a regular event - please let us know if you would be interested in making this happen!
*This walking bus is not suitable for bikes or scooters.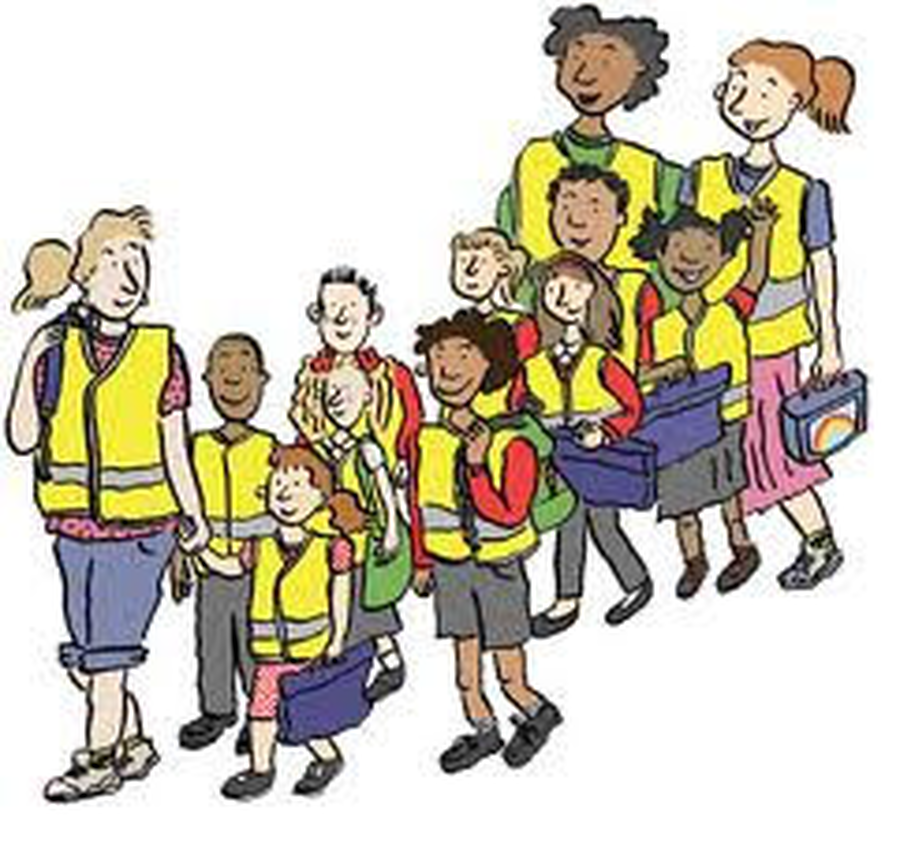 We are an Active School!
Holy Family are the proud winners of a bronze award for being an active school from Sustrans! Active children do better in every possible way. Their mental and physical health improves, they perform better in school and have better concentration and attendance.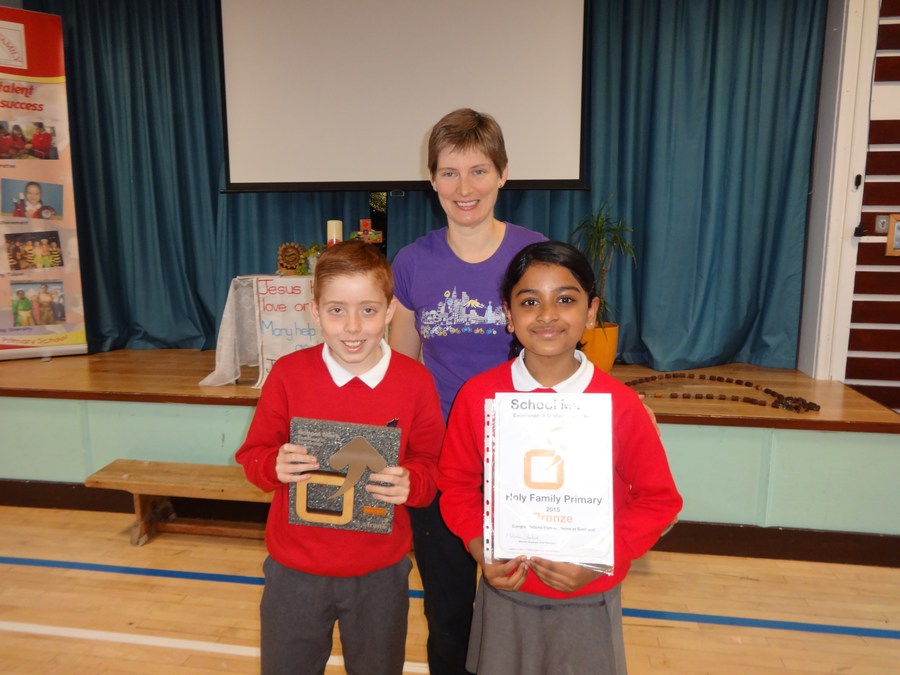 International Visitors
Holy Family welcomed two international visitors this week. We are joined for a week by Jennifer Jane, a teacher from our sister school, St. Paul's in Uganda. She will be visiting all the classes and all the children will have an opportunity to meet her. We also hosted an Australian visitor from Sydney! Cathy Forrester is head of Catholic education in Sydney and was visiting Holy Family to experience our wonderful ethos.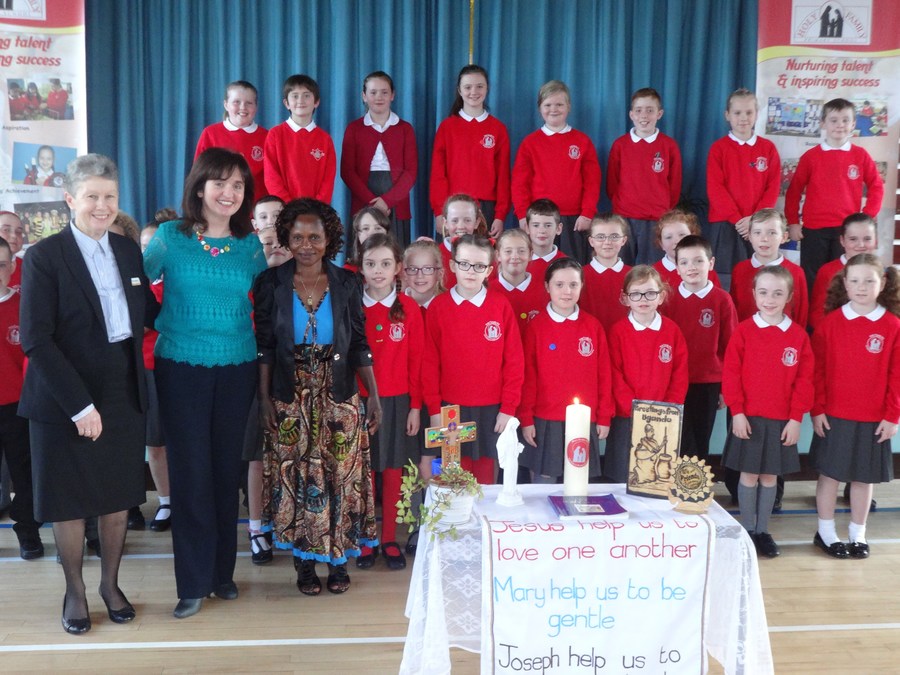 World Peace Day
Children from Primary 6 and 7 joined Miss McQuaid and our friends from Currie Primary School on the Limestone Road to show our support for World Peace Day. The children were delighted to see some of their friends from our neighbour school and there was great excitement as the balloons made their way up into the Belfast Skyline!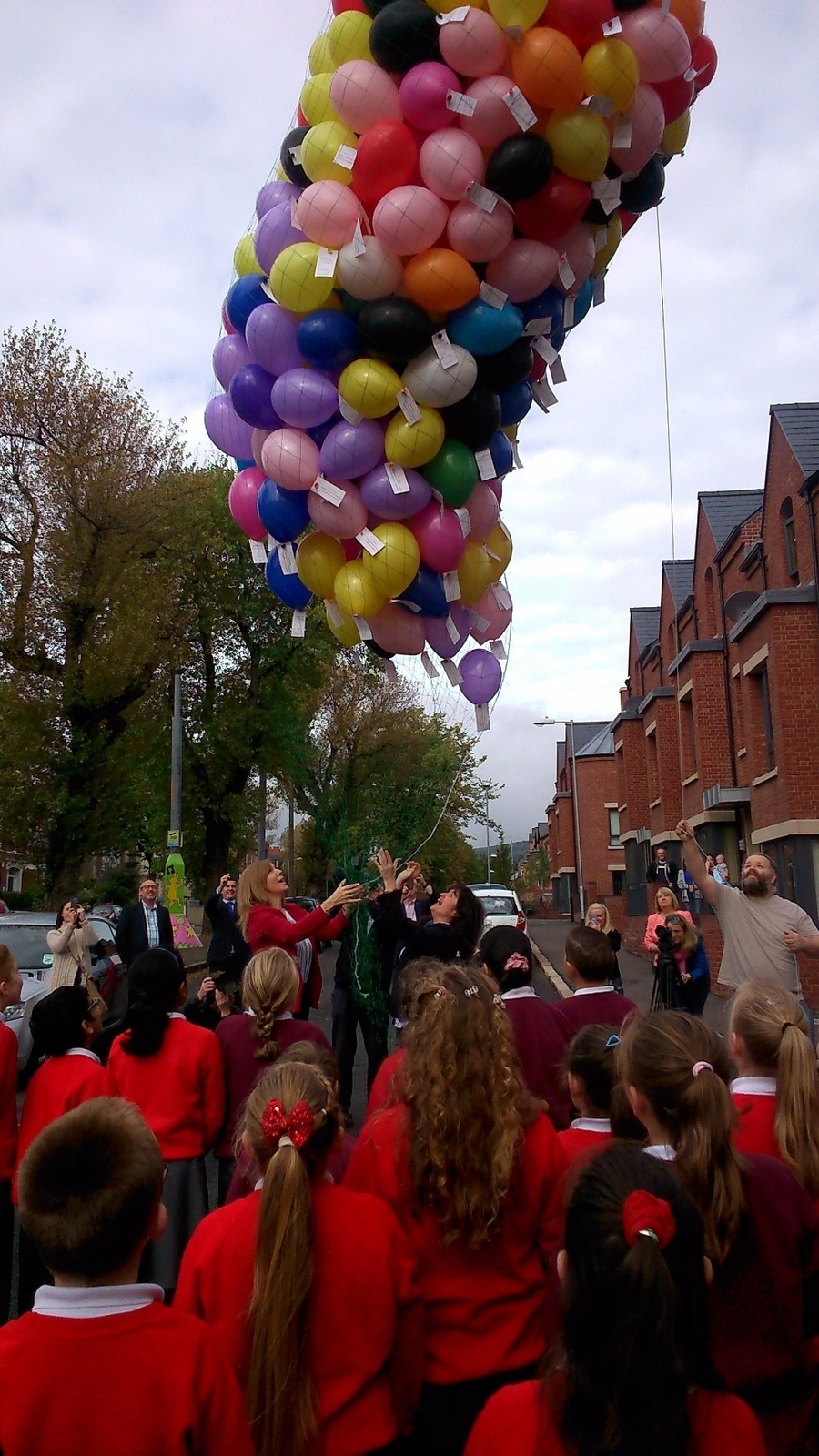 Jeans for Genes Day!
On Friday 18th September 2015 Holy Family will be participating in 'Jeans for Genes Day.' This is a fun and easy way to raise some much needed funds for families of children born with genetic disorders. Children can bring in 50p and come to school in their jeans. They should wear their Holy Family school jumper on top. For more information on this please visit:
Welcome Back!
Welcome back to all our pupils, parents and staff, including our new Principal Ms McQuaid, to a brand new school year at Holy Family. We would also like to extend a very warm welcome to all our new Primary 1 children and their parents - we hope you will be regular visitors to our website to keep up with all the wonderful things that are going on in Holy Family. It will be a busy year, as always, with lots of exciting and interesting learning opportunities for everyone. Happy September!
100% Attenders!
Congratulations and thank you to those children who haven't missed a single day of school this year! You are all fabulous!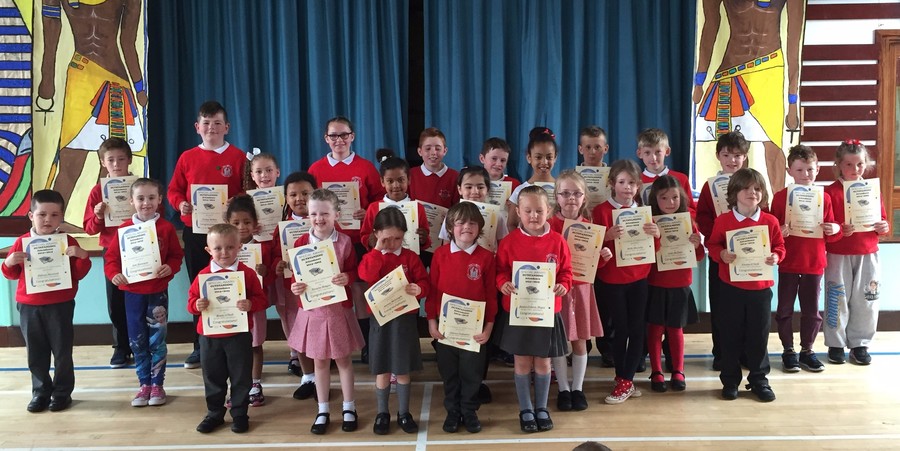 Music Grades Success
The results for the London College of Music Irish Traditional Grades are in! As expected, the children shone, receiving the grades they so richly deserved! Results are as follows:
6 Children from Holy Family passed with distinction and 2 with merit
19 children passed their exams with distinction and 4 with merit using our school as an examination centre.
Well done to all involved!
Irish Dancing Excellence
Wilson School Of Dancing had plenty to celebrate this week! They took four of our girls to the Ulster Championships and they all placed in their individual dances. They also celebrated Mr Pol Wilson's 35 years in Irish Dancing with a Feis. Don't our girls look wonderful in their new costumes! Remember, Wilson School of Dancing runs every week as part of our extended schools programme. Why not give it a try in September?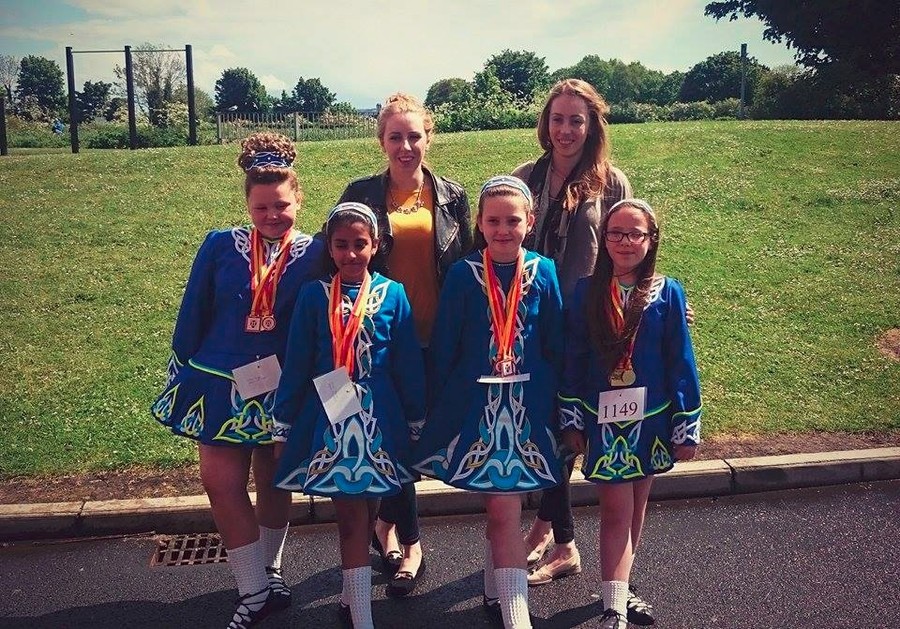 Chicks in Holy Family
Anyone walking through the doors of Holy Family over the past two weeks couldn't fail to notice our very special visitors. Primary 1 hatched their very own chicks! Sincere thanks to our friends at Blackberry Farm for making this special event possible, as well as our very own 'Mother Hen', Mrs Collins, who looked after them in the office, from egg to chick!
eSafety Competition
We are running a competition to find a new eSafety mascot for our school. Can you design a colourful, easy-to-remember character that tells us to stay safe online? If so give your drawing to your teacher and you could be a winner! There will be a prize for the best design from KS1 and KS2, and the overall winner will have their character made into a digital image for the website. Primary 3 have made this video to explain what we're looking for. Good luck!
Running for Uganda
Teachers from Holy Family Primary School will once again be taking part in the Belfast City Marathon Relay to raise money to help support our partner school St. Paul's – Uganda. Below are some of the fantastic differences we have made so far!
Generator to provide electricity

New bunk beds for dormitories

A mosquito net for every child

New roof on the boys' dormitory

Footballs for the children to play with

Banana and maize plantations to provide lunch for every child
Thank you for your continued support....we couldn't do it without you!
Super Day for a Spot of Cycling
What a treat we had this week! Super Cycling Man (aka Will Hodson) popped by to speak to the children ahead of his 7-continent cycle around the planet! Having set off from London on his bike 2 weeks ago on a quick tour of the UK and Ireland, he arrived in Belfast and came straight to Holy Family to tell us all about his big adventure. Super Cycling Man asked the children to follow his journey over the next 5 YEARS(!) and to do their best in order to be superheroes in their own lives. We wish him all the best and look forward to tracking his progress on www.supercyclingman.com and Twitter @supercyclingman. Good luck Will!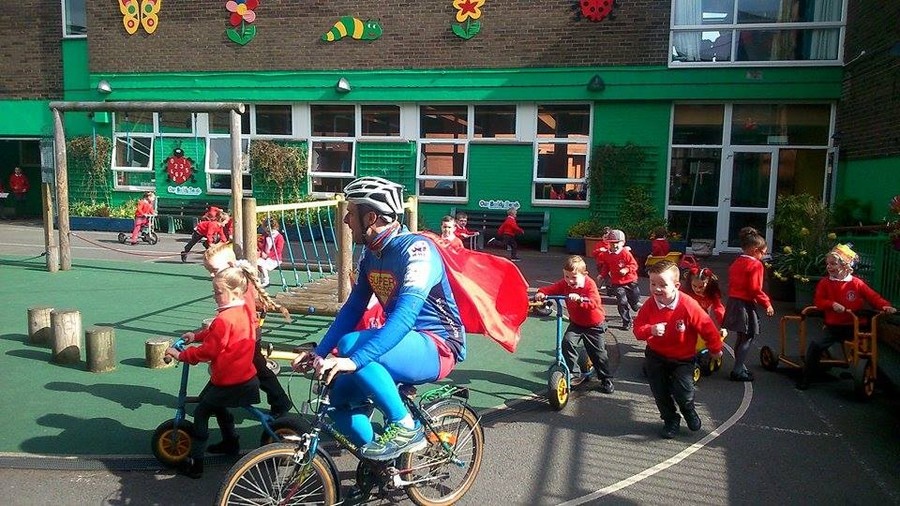 P3 Reach for the Stars
The children from P3 had a wonderful visit to the Planetarium in Armagh this week. We think we may have a few budding astronomers in our midst!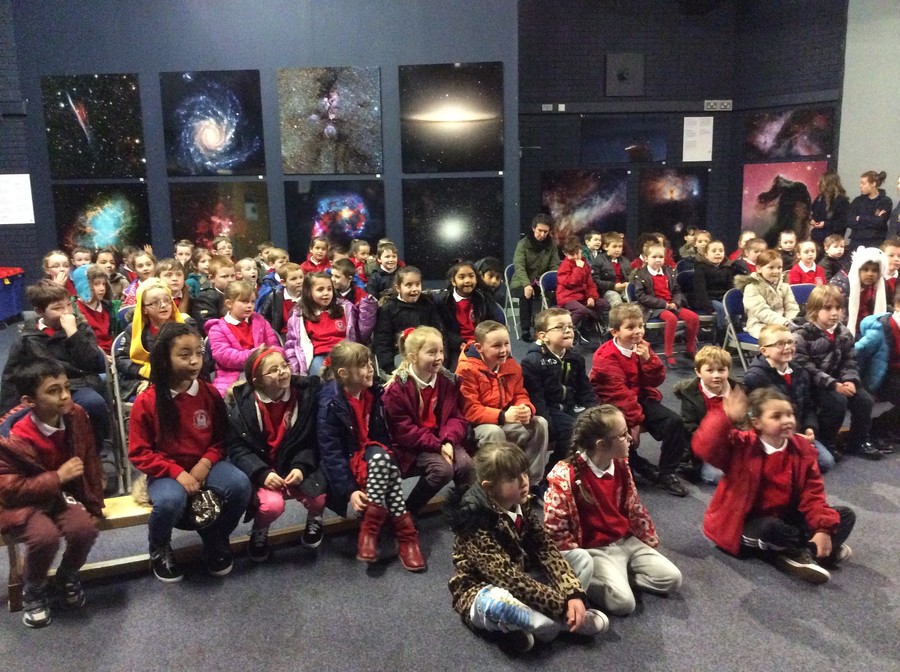 Catholic Schools Week
The last week in January is a very important week in our school calendar. The theme for this year is 'Catholic Schools: Called to Serve. Your child will be exploring and celebrating this theme with their class in different ways each day. Check out this week's newsletter for a list of things you can do at home to mark Catholic Schools Week.
Dates for the Diary
Saturday 31st January – Transfer Results (P7 Transfer Parent Meetings will be held late January/early February. Appointment times to follow)
Monday 16th – Friday 20th February 2015 inc. – School Closed for Mid-term Break
Friday 13th – Tuesday 17th March 2015 inc. – School Closed for St. Patrick's Day Break
Friday 13th March – Parent/Teacher Interviews
School closes on Thursday 2nd April 2015 at 12 noon for the Easter Break.
Christmas Celebrations
Primary 1 and 2 reminded us of the true meaning of Christmas with their wonderful nativity performances. Parents and grandparents were also entertained by our beautiful choir and musicians. We're sure their families were as proud of them as their teachers were!
** Don't forget, Primary 3-7 will round off our Christmas celebrations with their Nativity Pageant in Holy Family Church on Friday 19th December. School closes at 12pm on Tuesday 23rd December.
Halloween Fun
As always, the effort put into dressing up for halloween was wonderful.
Well done everyone!
Back with a Bang!
We've had a busy few months in Holy Family and the staff and children have had another great start to the year. Our Primary 1 children have settled in beautifully while the new Primary 7 children have shown that they are ready to lead the school into 2015. Here's to another outstanding year!
End of Year Round-up

As always, the school year ended with a flurry of activity!! Miss Magee and her Eco-council not only brought home the Green Flag award (again!), but they also earned Holy Family the title of Best Kept School 2014. The P7s thoroughly entertained us with their wonderful stage version of the Wizard of Oz. We had 2 fabulous, sunny sports days for KS1 and KS2. And the Gate Lodge next to the school was officially opened as a family learning hub and centre for community education programmes. Here are a few photos of a very busy June!
An OUTSTANDING Inspection Result
We had some very special visitors to Holy Family in May. The Education and Training Inspectorate (ETI) came into our school to examine and evaluate how our children were being provided for. They looked at opportunities for achievement, the range and quality of learning experiences, the pastoral care of our children, and how the school itself was run. We are so proud of how every member of our school community showed what Holy Family is all about, leaving the inspectors in no doubt that we are indeed outstanding! In fact, the inspectors couldn't find a single area where improvement was needed - what a fantastic and well-deserved result!!!
Read the full report here........
TREK at Stormont
Congratulations to our Year 6 pupils who joined pupils from other Primary schools to participate in a TREK at Stormont. The children were outstanding ambassadors for our school. This TREK was part of the Celebrating Difference Together Project. This project focused on the following important qualities: Truth, Respect, Empathy and Kindness. We have all been trying to show these in our work and play this week.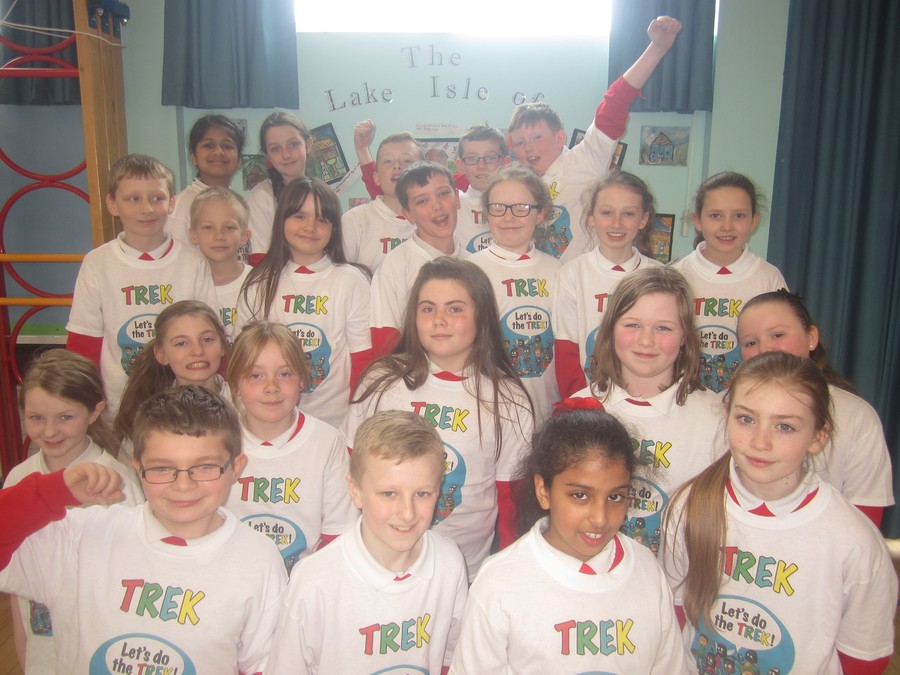 Confirmation and First Confession
Well done to all our Year 7 and Year 3 pupils who received the Sacraments of Confirmation and Reconciliation recently. The children's behaviour and prayerfulness was exemplary and once again we are extremely proud of each and every child. A special thank you to our school choir who added to the beautiful ceremonies with their wonderful singing.
Cultra Visit
Yr 2 children enjoyed a super visit to Cultra as part of their Topic on 'Houses and Homes.' They really enjoyed stepping back in time with their visit to the old houses.
Planetarium Visit
Yr 3 pupils visited Armagh planetarium as a culmination of their topic on 'the Solar System. Their extensive knowledge on the topic totally impressed the guides.
Recycling Visit
Yr 5 visited IKEA to see how recycling takes place. The children had a fantastic day out. Their exemplary behaviour was remarked on by the manager who contacted Mrs MacManus to say that they were without a doubt the best behaved group of children they had ever hosted!!! Wow!!
Under the Hawthorn Tree
Congratulations to the pupils from Year 7, who performed excerpts from Under the Hawthorn Tree on Saturday morning at the Ulster Museum. It was a fantastic experience for all the children and a thoroughly entertaining experience for the audience.
Boxing Demonstration
Yr 6 and Yr 7 were entertained to a boxing demonstration on Thursday when they visited the Patsy Quinn Gym. A special thank you to one of our grandparents Mr Tony McAllister who organised the visit.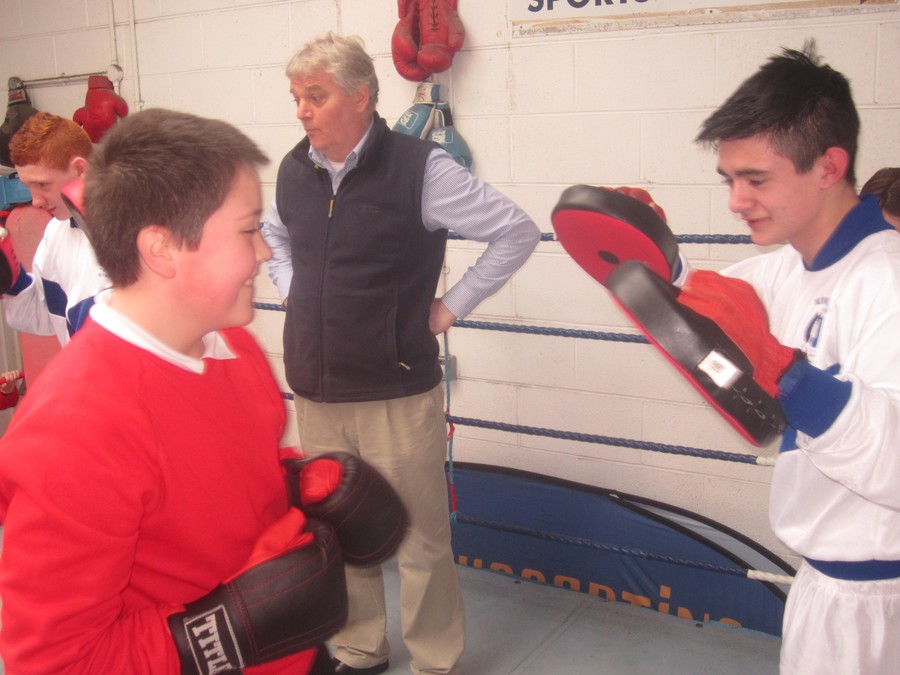 Opera Quest
Well done to Ms Brankin's Year 5 class who have completed their Opera Quest project. This culminated with a performance in the Opera House which was attended by the other Year 5 classes.
Centenary Celebrations
We have had two wonderful weeks filled with celebrations to mark 100 years serving the community. Highlights included our 1914 day and our two beautiful Masses. Those attending these events have been full of praise for our school and our children. We are so proud to have shared in this remarkable celebration!
Staying Safe Online
Internet Safety is a huge focus in Holy Family and we are asking our parents and carers to get involved by discussing some important issues at home. Have a look at the following website and learn more about the big issues your children face when using the internet:
Texting Service
We have invested in a texting service which allows us to send our parents important messages. This will be a very important way of communicating with our parents. The success of the scheme depends on our having the correct mobile numbers for our parents. We would ask that you contact the school office if you change your mobile number.
Online Learning with Espresso
This year we have introduced Espresso Education into the classroom and it has proven to be a great resource! Packed with videos, games and activities linked to the curriculum, it fits right into our vibrant lessons in Holy Family. And there's more.......you can log on at home and use the 'Home Learning' section too. Ask your teacher for the student username and password, click on the link below and get started!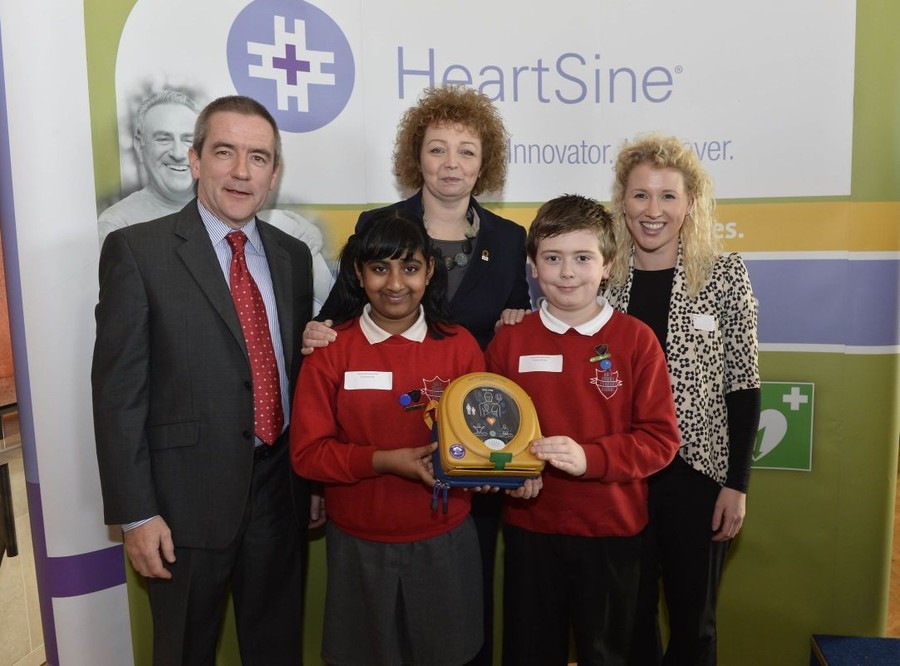 After her stint as a World Police and Fire Games volunteer, Miss Dowds was keen for Holy Family to share in the legacy of the games. She applied for the school to win one of the defibrillators to enhance our capability as a healthy school. Our head girl and boy, Amanda and Thomas, went to Stormont to collect this life-saving piece of medical equipment from the Minister for Culture, Arts and Leisure. Some of our members of staff will receive training in the use of the defibrillator.
Choir Go from Strength to Strength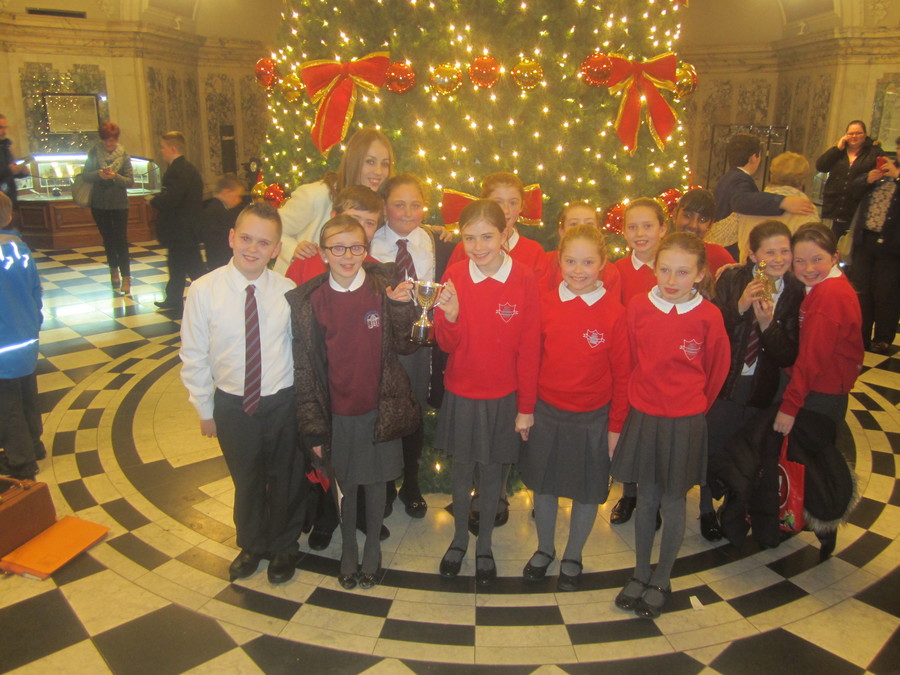 Miss Wilson's choir are unstoppable at the moment! Fresh from their 1st place success at the FISCA Christmas Gala competition where, together with Currie Primary, they beat 3 other cross-community choirs to claim the top spot, they have now just performed with the 3 Tenors at the Ulster Hall! A huge congratulations to all involved. The hard work and dedication of each member of this wonderful group has certainly paid off!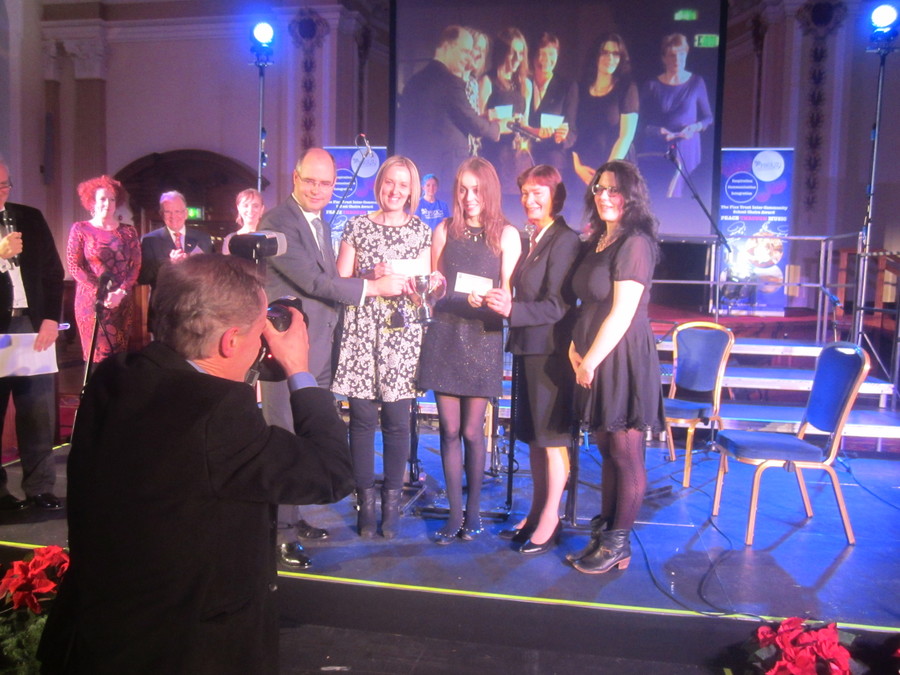 Music Grades
These children made us all very proud when we received the news that they had achieved distinctions in their first grade in traditional flute, tin whistle and violin. What an achievement for primary school aged children......who had a mere 45 minutes tuition per week through Miss Wilson's Irish Traditional Group!
P2 in their PJs!
The annual Primary 2 Pyjama Party was once again a great success! The children spent the evening listening to stories in their sleepwear, while their parents learned lots about the P2 Curriculum in the hall. There was even a wizard to welcome them as they arrived!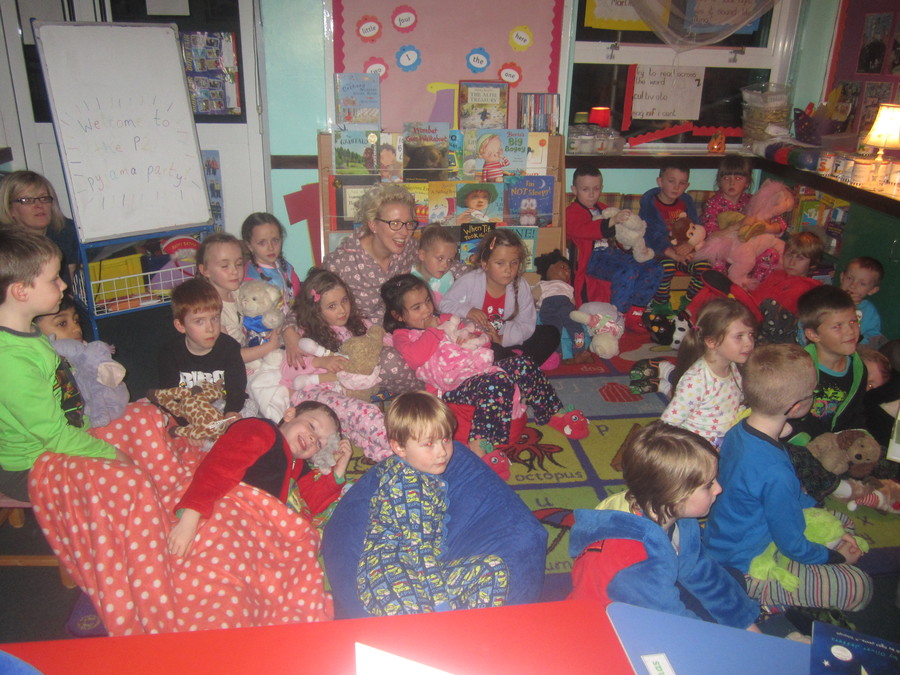 Lantern Parade Preparation
New Lodge Arts came into Primary 6 on Friday to help them make their very own lanterns for the Lantern Parade and Magical Evening in the Waterworks. The children thoroughly enjoyed creating their own lanterns and can't wait to try them out next week. The big event takes place on Wednesday 30th October and is sure to be the huge success it was last year. Contact New Lodge Arts for details about this year's wristband entrance system.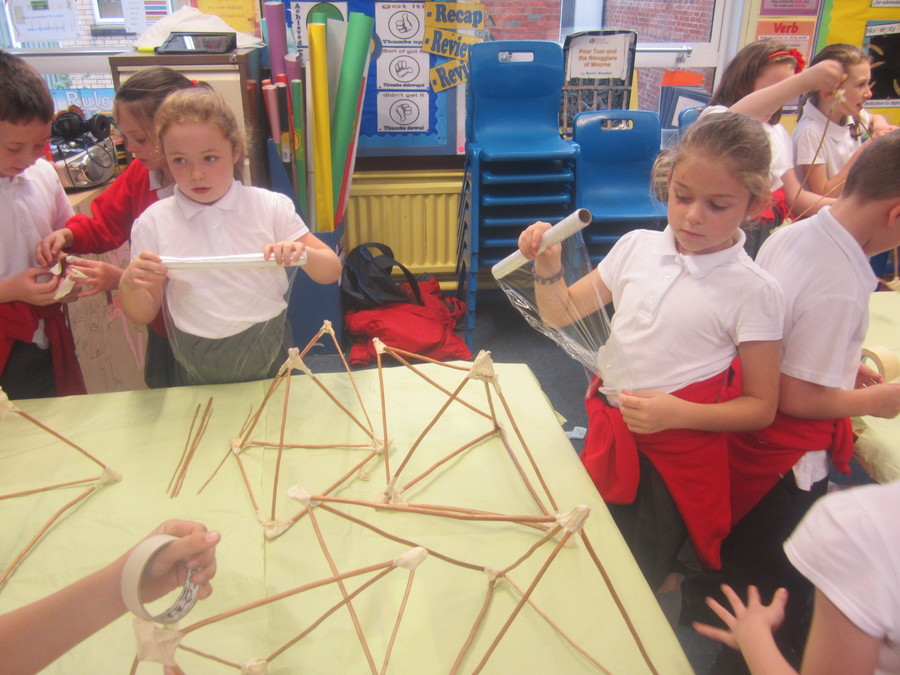 Parents' Art Project
There was a wonderful celebration this week of the Art project which was undertaken by mothers from Holy Family and Currie primary schools. Each school now has a beautiful piece of artwork created by the mums. Ours can be seen at the front door of the school. We are grateful to New Lodge Arts for sponsoring the project and to all the mums for their hard work and commitment.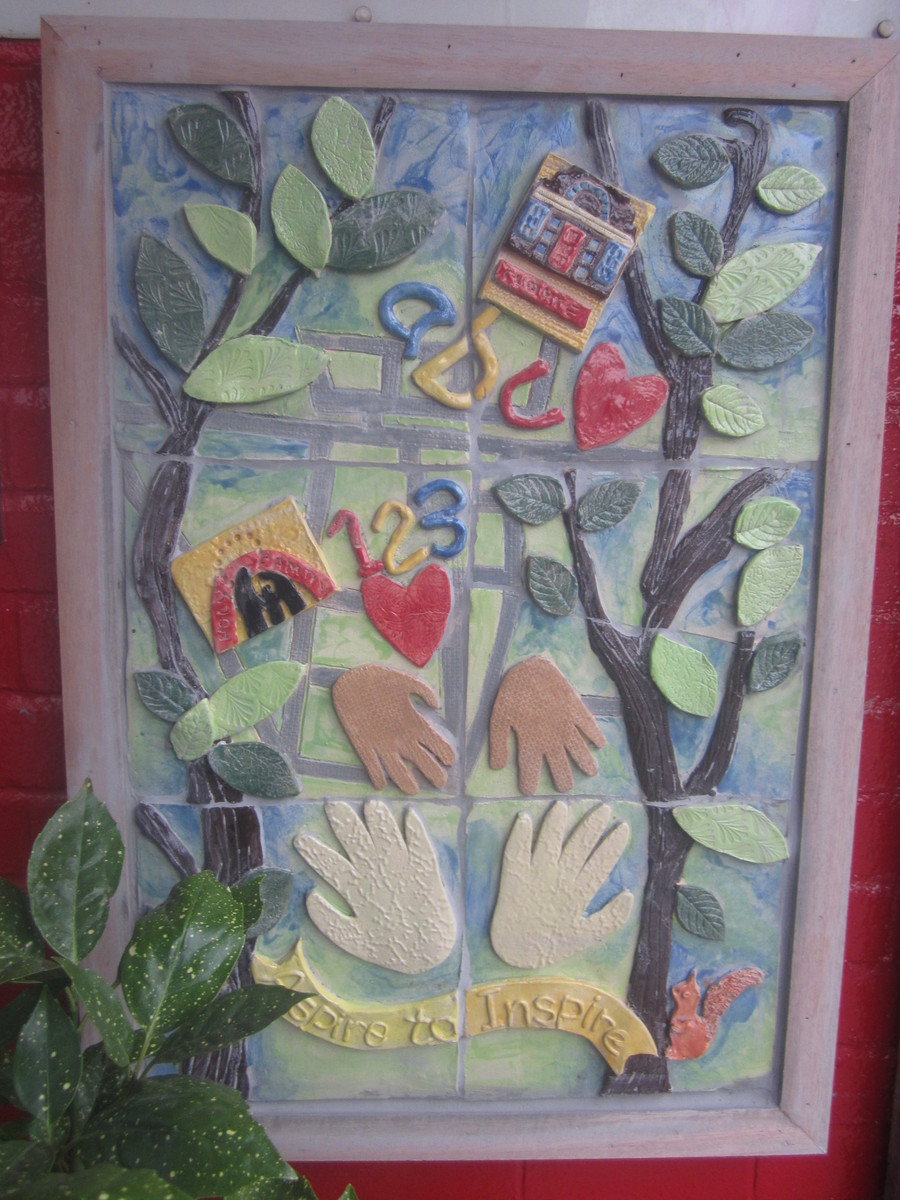 Sacramental Enrolment
All of our children who are set to receive sacraments this year have officially begun their sacramental journeys. Our Year 3, Year 4 and Year 7 children marked the start of their preparation for First Confession, Holy Communion and Confirmation with beautiful Enrolment ceremonies celebrated by Canon Murray. The children were outstanding in their prayers, singing and behaviour, and were certainly a credit to their families and teachers.
Girls' Gaelic off to a Great Start
Last week, our girls recorded a win and a draw in their second and third fixtures......ever! Some of these girls had never kicked a ball until they joined Mrs Gregory's new super-team so we are incredibly proud of their performance so far. Keep up the great work girls!
Peter Pan's Flying Visit
We had a special treat this week - a visit from a theatre company. We saw Peter, Wendy and Captain Hook sing and dance their way through a wonderful show. Great fun was had by all!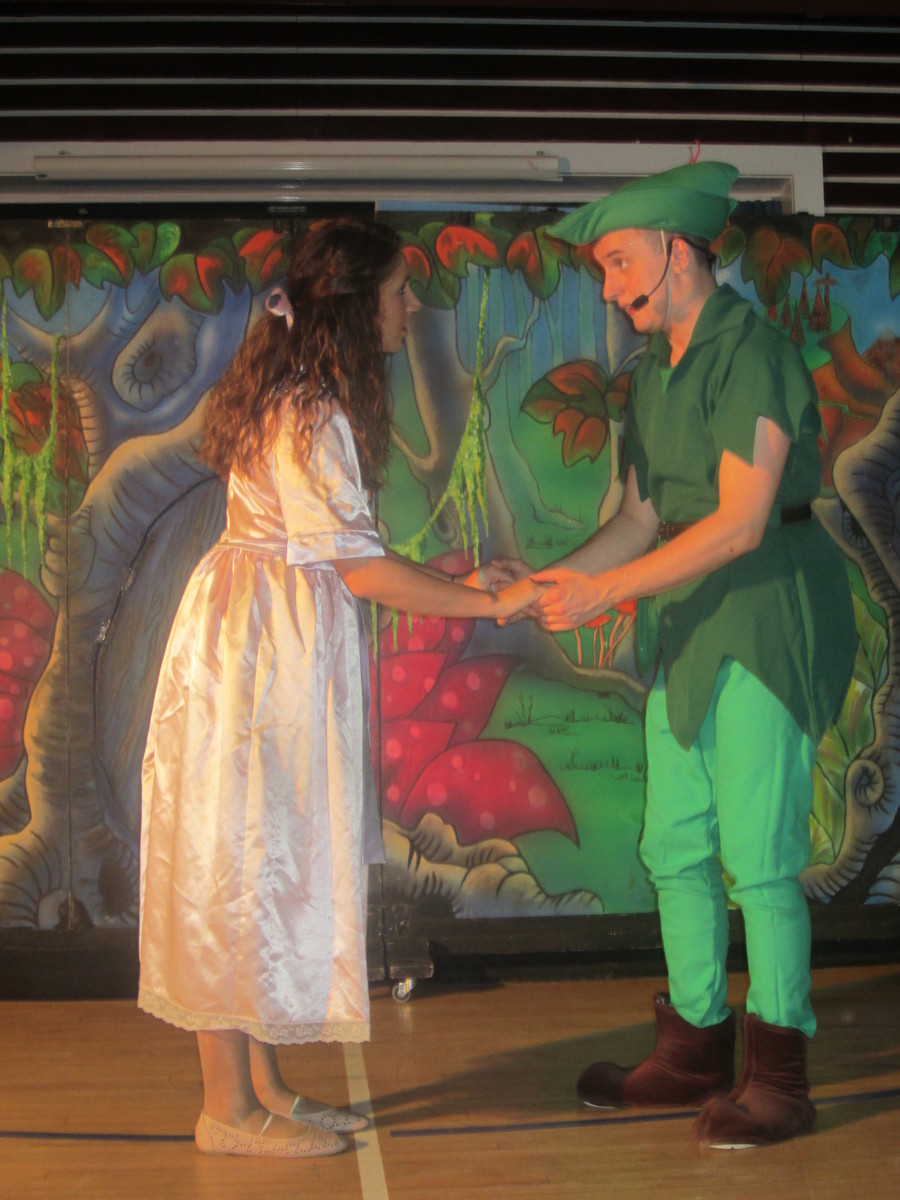 Holy Family Sports Teams Kick Off
This week saw our first competitive sporting encounters of the year. Mr Barrett's boys soccer team were involved in a thrilling 5-5 draw, while Mrs Gregory took her newly-formed girls gaelic team out for their first ever game. The girls narrowly lost but they did us proud! We look forward to plenty of success from these two teams this year.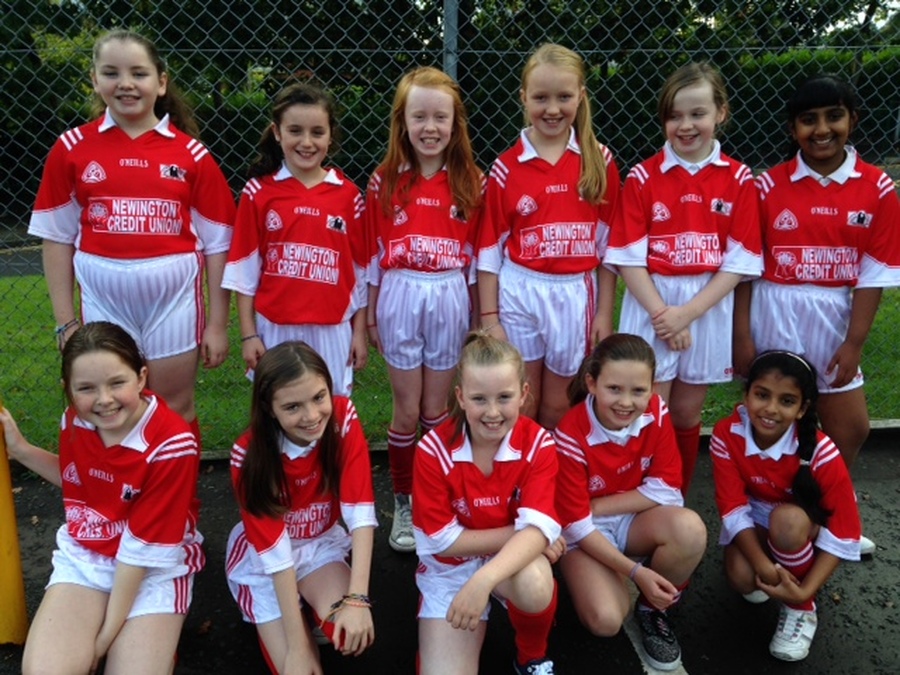 Rebuilding the Hospice
Our school has adopted the 'Hospice Rebuild' as this year's fundraising focus. We will be contributing to the building of the children's playroom which is really appealing to our children. Each class will be raising money to build a brick (cost £30). We look forward to making our contribution to this worthwhile venture and to engaging with you to make it a memorable part of our centenary year.
For more information on the NI Hospice appeal click here: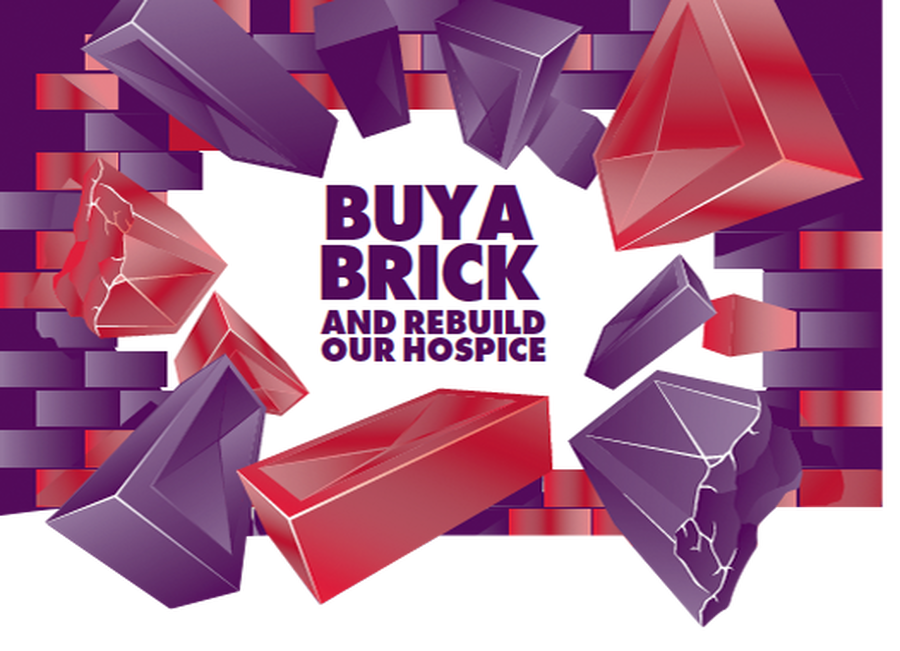 Welcome Back!
It was wonderful to see all of the smiling faces and shiny new uniforms coming through the doors this week! An extra special welcome to our new year one pupils who have been incredibly brave so far. Mummys and daddys can rest assured that their little angels are settling in beautifully. We look forward to a great year ahead with all of you!
Summer Term Celebrations
The summer term seemed to go by in flash!! Here are some of our personal highlights.........
Year 7 put on a wonderful pantomime performance of 'Cinderella and Rockerfella'

We enjoyed trips to the farm, the zoo, the MAC, and many more

Our footballers brought home the Champions League trophy...AGAIN!

Our musicians wowed us with an outstanding musical extravaganza
Sometimes, it's difficult to keep up with all that goes on in Holy Family!
Football success - some of our footballers show off their silverware at Seaview
Visit from our Ugandan Friends

Two teachers from St. Paul's travelled to Belfast from Uganda this week and, as always, our children gave them a very warm welcome. Sister Beata and Teacher Joseph were overwhelmed by the love shown to them by everyone in Holy Family. They wanted to thank all of our teachers, children and parents for their support over the last few years. We wish them a safe journey back home.
Site Safety
We had a visit from construction company T&A Kernoghan this week. While they are working on the Limestone Road, they want to make sure that all of our boys and girls stay out of harm's way. At KS2 assembly, they told us all about the dangers of a building site and reminded us that it is not a place for children. They even recruited a new builder, who modelled the latest in construction fashion!
Centenary Preparations
2014 will mark Holy Family Primary School's 100th year and planning is already underway for the celebrations. As part of our preparations, we are asking past pupils and staff to contribute photos, old school books, stories or anecdotes about their time in the school. If you have anything you would like to share there are two ways to do so:
1) You can drop your photos, etc. into the school office along with your name and telephone number. Items will be returned to you in due course.
2) You can 'like' the centenary Facebook page and submit your images, etc. digitally. Click the link below:
Belfast City Marathon
A huge well done to our teachers who ran the Marathon on Bank Holiday Monday! Mrs Gregory's relay team took to the streets to raise money for our Ugandan friends in St Paul's. Along with seasoned pro Mr Kelly, Mrs Gregory's running protogés included Miss Brankin, Miss McKeever and Miss White. Meanwhile, Miss Dowds battled on through injury and completed the entire 26 mile course herself! Her damaged knee almost gave way after 19 miles, but she charged on and came in under the 5 hour mark - what a trooper!
Our 2013 relay team Miss Dowds still smiling at the end
Points Mean Prizes
Our bookworms have cleared out the Accelerated Reader Prize Cabinet again! Well done to everyone for keeping up the reading, expecially our latest Word Millionaire, Irek Brunka in P7. The final prize day for this year will be in June, so get reading and clocking up those points to take advantage of the fantastic prizes on offer.
ipad Excitement!
We have recently introduced ipads into the learning environment at Holy Family and there is a great buzz of excitement around our new ICT tools. Have a look at our Primary One children who are experts already!
Technology Challenge
P3 to P7 took part in a technology challenge just before the Easter break. Their task was to design and build a play swing with moving parts. The children had lots of fun planning and constructing their swings and we're sure you'll agree that they did a great job!
Uganda Visit
Miss McAuley and Miss White visited our friends in St. Paul's in March. They had a wonderful experience, describing it as 'a trip of a lifetime'. While they were there, they had the chance to do a spot of teaching in classes of 84 Year 6 children and a massive 130 Year 3 children! They also checked out some of the projects that Holy Family has contributed to during our partnership. We're sure we shall be hearing all about their trip over the coming weeks in school!
Some of our 'Holy Family' bunkbeds Our teachers receive a warm welcome as always
The children were delighted to receive their football shirts, friendship bracelets and pencils
Ballyclare Music Festival Success
Mrs Mallon, Miss Wilson and Miss McVeigh took our recorder group and choir to the Ballyclare music festival last week and they returned with their arms full! The recorder group performed to an incredibly high standard across the board and came home with prizes in solo, duet and group categories. The choir also came home with joint first place in their competition. We are incredibly proud of each and every one of the boys and girls who represented the school and look forward to future success!
Some members of our wonderful recorder group showing off their silverware
and playing at KS2 assembly
Our beautiful choir after their competitive success
The Sacrament of Confirmation
Congratulations to our Primary 7 children and their teachers on a truly beautiful Confirmation ceremony. All of their hard work in preparing for this important sacrament really showed. Well done P7!
Inspiration for our Aspiring Writers
Colin Bateman, author of books for children and grown-ups, popped in to give some advice to our aspiring writers this week. As part of World Book Day celebrations, our Primary 6 and 7 children spoke to Colin and received lots of advice on how to get into writing for enjoyment and maybe even a career. They were also treated to a reading from his book 'Reservoir Pups' which they loved. Hopefully, Colin has inspired a new generation of writers from North Belfast!

Poetry Day Celebrations
Could there be a future Seamus Heaney or WB Yeats amongst us? Having heard some of the wonderful poetry buzzing around the school recently, we wouldn't be at all surprised!
After a week of writing, listening to, reciting and memorising a huge range of poems, we came together to celebrate Poetry Day at our assemblies. We were treated to topics as diverse as the Titanic, Magic Boxes, and Socks, with the form of poetry ranging from classical to descriptive poems and even rap. Now that's what we call a celebration of writing talent!
Footballers' Champions League Success
We are incredibly proud of our football team, who last week brought home the Schools' Champions League Trophy from Seaview. Not only did the boys (and girl!) lift the silverware before they had even kicked a ball on the final day, but they were also a credit to the school on every outing. As the tournament ran across a number of weeks there were 3 team captains who deserve recognition for their leadership of the team. Take a bow Thomas Logan, Keelin Hagans and Lauren McCann!
Some of the players from our winning squad
Farewell to Marta
Last week marked the end of our Polish assistant Marta's time in Holy Family. Marta really became a valued part of Holy Family while she was here and she will be missed by staff and pupils alike. Before she went, Marta was kind enough to set up a link between our Primary 5 and 6 pupils and some Polish school children.
We were incredibly excited to receive our letters before she left and hope to keep in touch with our new penpals by post and email.
Recycle More Than Before
In addition to our usual recycling of paper and card, Miss Magee and her trusty eco-council are making sure we recycle even more! Look out for the boxes around the school in which you can deposit:
Old CDs and DVDs

Old or broken mobile phones

Empty printer catridges

All types of batteries

Plastic bottles and containers

Our mobile phone collection is in partnership with the 'Helping Hands' charity, who will give us new ICT equipment for the school in return for all our hard work. So, start clearing out those drawers and searching down the back of the sofa for old and broken mobiles. As an added incentive, for every old phone you collect you will receive 50 house points!
Could You Read One Million Words?

........these girls have! Amanda, Denna and Caoimhe are our latest Accelerated Reader Word Millionaires. Girls, we're sure you must have come across these words in all that reading: SUPERB ACHIEVEMENT!
A huge congratulations also to all of those children in KS2 who were able to spend their points this week on some fantastic prizes - very well deserved!
Rights Respecting School Award
Following a visit this week where teachers, parents and children were given the task of showing all that we do to respect children's rights in Holy Family, we have been awarded level one status of the RRSA. Special congratulations go to Miss Brankin and our wonderful school council, who worked incredibly hard in preparation for the visit. See the Unicef RRSA page for more details of the award.
KS1 children hear more about the Rights of the Child at assembly
Library Open to Parents
We have now opened up the school Library to enable parents to borrow books. We have a huge range of picture books, novels, big books and audio resources which will make reading at home fun and engaging for you and your children. This service is available every Monday morning from 9am to 10am. Come along and get reading!!

Catholic Schools Week

To celebrate Catholic Schools Week, which runs from Monday 28th January to Sunday 3rd February, children will be taking part in a number of activities with their classes. This year's theme is 'Catholic Schools in the Community of Faith: Sharing the Good News'.
As the week draws to a close there will be a school Mass for Year 3 to Year 7 on Friday 1st February at 9.15am. All parents are welcome to join us in this celebration.
Happy New Year!
We hope all of our children, parents and staff have had a happy and peaceful Christmas break. Hopefully Santa was good to everyone and we are all well rested and ready to make a great start to 2013!
Primary 3 tell the Greatest Story of all
Our Primary 3 children made their teachers and parents very proud when they acted out the story of Jesus' birth in a beautiful Christmas pageant in Holy Family Church. Children from P4-P7 and our wonderful choir lent their voices to make it a very moving event for everyone present. A truly joyous occasion - well done to all involved!
Primary One and Two Take to the Stage
Parents, teachers and children were thoroughly entertained by P1 and P2 last week, as they performed their versions of the Nativity story.
P1 sang, danced and acted their halos off in 'Whoops-a-daisy Angel'. P2 then told us the tale of 'The Bossy King' who was humbled by a tiny baby in a manger. They certainly got us in the mood for the festive season, while reminding us of the true meaning of Christmas. Thank you boys and girls!
The Vikings are Coming!!
Our playgrounds and corridors were overrun with villainous Vikings this week. P6 children wrapped up their World Around Us topic with a fantastic Viking Day, which included games, battles, songs and a long-table feast. The children and their parents are to be congratulated on the wonderful costumes and armour, which they have been working on at home for the last number of weeks.
Anti-Bullying Week
Children from P1 - P7 took part in a range of activities to mark Anti-Bullying Week. It was a very worthwhile and thought-provoking week of activities for all of us! We looked at the problem of bullying and how to tackle it. We also learned more about being a good friend to those in need.
P2 children presented their work on 'differences' at KS1 assembly, while at KS2 assembly, children from P4 shared what they had learned about bullying from the point of view of children's rights. P6 children also performed some of their poems.
Active Bodies and Active Minds
We have been flexing our muscles in more ways than one this week! Children from P1 to P7 enjoyed learning some new skipping skills with Dan the Skipping Man on Tuesday and Wednesday. Then, on Thursday and Friday we put our maths skills to the test with a fun Maths Carnival. Activities included Ten Pin Bowling, Fruity Fractions and Symmetry Art. Phew............our brains and bodies deserved a good rest over the weekend after all that activity!
Sshhhhh!......We're having a Pyjama Party!
Our Primary 2 children came to school in their pyjamas on Thursday evening for a night of snuggling teddy bears and listening to stories. It was a beautiful evening and the children were so quiet you could have heard a mouse sneeze! Thank you to everyone involved, especially our P2 parents who came along with their children.

Halloween Fun
Once again the halls of our school were overrun with ghosts, ghouls and everything in between, as the children came to school in fancy dress to celebrate Halloween. Some costumes were so scary that teachers could be heard screaming with fright all throughout the day!
Parents' Coffee Morning
A big thank you to all of the parents and grandparents who came along to the coffee morning in October, and to Mrs Hughes, who organised the event as part of the Aspire programme. It was a great chance for parents to meet eachother and have a chat about school life. Hopefully this was the first of many!
North Belfast Lantern Parade Launch
Year 6 pupils helped to launch the North Belfast Lantern Parade this week. Children from Holy Family and Currie Primary Schools have been working together on some magical creations for the parade, which takes place in the Waterworks on 30th October. Come along and see our artwork for yourself, while being entertained by Northern Ireland's number one 'Pink' tribute act. Guaranteed fun for all the family!!
Get Safe Online Week
It's 'Get Safe Online' week from 22-26 October. For tips and advice on how to keep your child safe when using the internet visit:

https://www.getsafeonline.org/safeguarding-children/
Primary 3 on the Move!
As part of their World Around Us topic of 'Transport', Primary 3 visited the Ulster Folk and Transport Museum this week. Accompanied by their teachers, assistants and parent helpers, the children learned so much about transport from the past and present. There was even time to pose for a few fun photos.............
Beauty and the Beast
M&M Productions invited us to 'be their guests' this week, as they dazzled us with a wonderful production of Beauty and the Beast. Children and teachers alike thoroughly enjoyed themselves as they sang and danced along to songs from the Disney movie......as well as a few more current numbers!
New Computer Based Assessment
As part of the new assessment arrangements for schools in Northern Ireland, children from P4-P7 will complete computer based assessments in Literacy and Numeracy. These assessments have replaced INCAS. In order to familiarise themselves with the question types and answering techniques, we suggest that children take the opportunity to work throught the practice material available online. Follow the links below:
http://www.ninumeracyassessment.org.uk/
https://www.niliteracyassessment.org.uk/
Welcome to our New Polish Assistant
We are delighted to welcome our new Polish assistant, Marta, to Holy Family. She will be with us over the coming months so greet her with a smile and a Dzień dobry!
A huge welcome back to the staff and pupils of Holy Family. After a long, relaxing and, hopefully, fun summer, we were delighted to see so many smiling faces come through the doors this week.
And, of course, an extra special welcome to our new Primary One pupils who will be joining us in stages throughout the next few weeks.
Here's to a happy and successful school year ahead!
A huge well done to Mrs Gregory and Miss Costecalde, who completed the Lisburn Half Marathon in aid of our Uganda Partnership. Despite a serious injury to Miss Costecalde, the pair battled on to complete the 13 gruelling miles in just 2 hours, raising an outstanding £2500 in the process! Our sincere thanks go out to everyone who generously supported the runners with sponsorship, donations and messages of encouragement. Mr Kelly and Mr Barratt also ran the 10k race at the same event but they assure us that next year they will up the ante and put the ladies to shame!
Year 7 Jungle Spectacular
Our Year 7 children put on quite a show in June! Their version of 'The Jungle Book' was simply fantastic, with every child playing their part in the production.
Mrs Hinds took the reins as producer this year and quickly set to work, transforming the children into monkeys, elephants, snakes and various other jungle creatures. Sounds of 'The Bare Necessities' and 'The King of the Swingers' could often be heard drifting along the corridors during the weeks leading up to the show.
After lots of hard work and rehearsals, the cast finally took to the stage, showing off a dazzling array of talent against a wonderful jungle backdrop. The choir played their part beautifully, as always, and really got into the spirit by having their faces painted, thanks to some very generous family members who gave up their time to do this. Special thanks also go to Mrs Keenan, Mrs McCallan and Ms. Lavery who did a wonderful job making costumes. Mrs Keenan's snake and Mr McDowell's elephants were a particular highlight.
The biggest thanks go to the stars of the show, who were a joy to work with throughout. We look forward to seeing them on a bigger stage in the years ahead!