Term 3 in Holy Family is all about preparation for Sports Day! While we are so disappointed we are going to miss one of the highlights of the school year, we are still able to bring you a "Healthy Kidz" Virtual Sports Day in partnership with Spar, Eurospar and Vivo!
Sports Day training starts on Monday 11th May and will run for a few weeks before the big Virtual Sports Day on Saturday 13th June!
REGISTRATION CLOSES AT 6PM ON MONDAY 18TH MAY!
Once you're signed up you can either use the pack they will send you for the activity each week or you can scroll down this page to see what skill we are learning each week.
We can't wait to see all the photos and videos of your efforts on SeeSaw!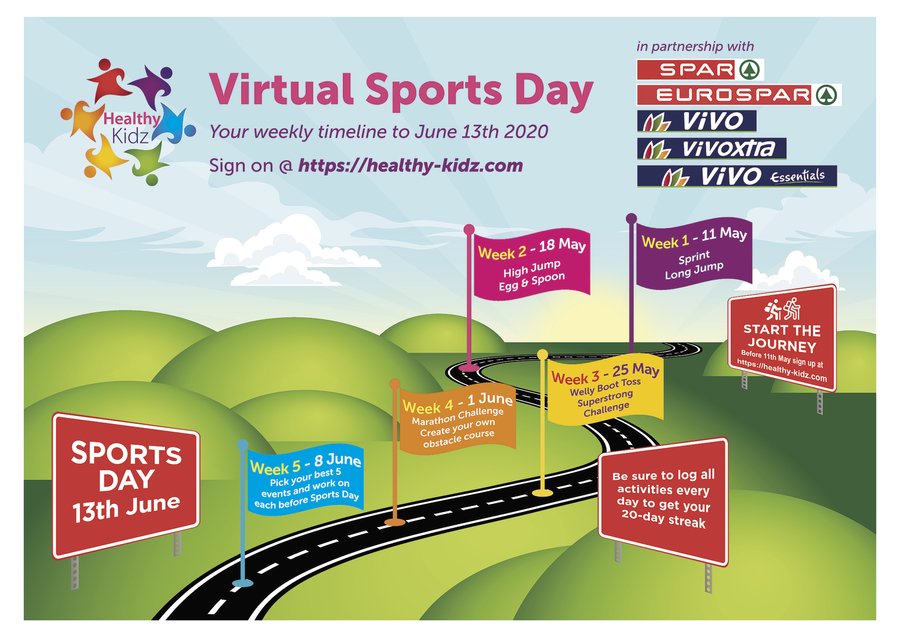 Click on the thumbnails to enlarge the picture for more information!
Week 1: Monday 11th May - Friday 15th May 2020
Click on each thumbnail to find out what you have to do!
Week 2: Monday 18th May to Friday 22nd May
Week 3: Monday 25th May - Friday 29th May
Week 4: Monday 1st June - Friday 5th June